Access Conrol
Overview
Space Communication Access Control and Time-Attendance door controllers are the brain of the system which allows only authorized users in the premises and registers their entry and exit time. These door controllers are available in various models with advanced connectivity and interface options to tackle present and future access control and time-attendance needs of any type of the businesses.
Elegant Design
Award Winning Design
128x64 LCD Display and Touch Sense Keypad
Pluggable Card Reader Module
Audio Visual Indications


Fast and Accurate Fingerprint Identification
Identification in less than 1 Second
1:1 and 1:N Verification


Better Storage Capacity
50,000 Events Storage
9600 Fingerprint Templates


Versatile Reader
Fingerprint, RFID Card Reader and PIN
Optical Fingerprint Reader
Proximity and Smart Card Reader
EM Prox, HID Prox, Mifare and HID iCLASS


Easy Operation and Installation
User Friendly, Fast and Easy Operations
Standalone and Network Operation
Easy Mounting on a Back Plate
Leverage Existing Network Infrastructure
Minimum Wiring


Enhanced Connectivity Options
Wired or Wireless Connectivity
Ethernet and RS-485
Wi-Fi, 3G, 2G, GPRS, UMTS and USB


Various Interfaces
Door Relay and Door Sense
Auxiliary Input and Output Port
Exit Reader and Exit Switch


Applications
Interface Diagram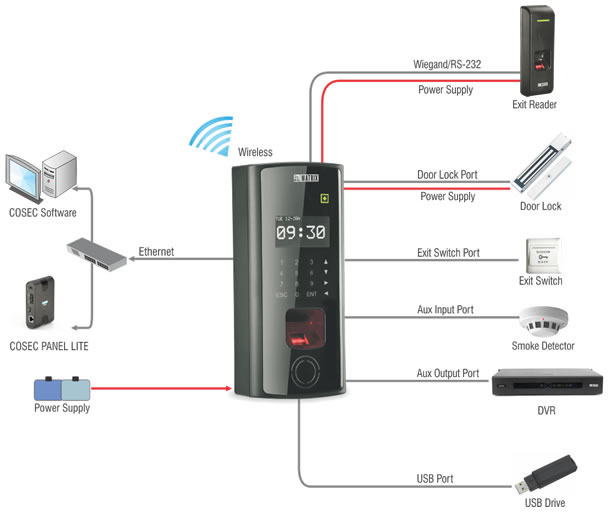 Network Application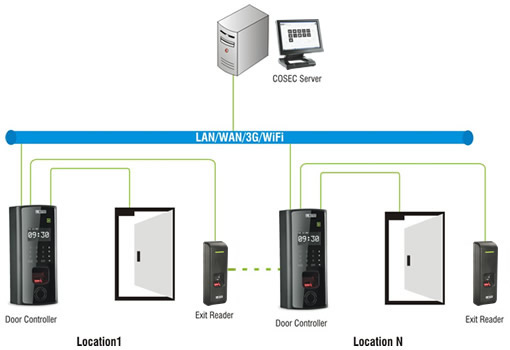 Stand-alone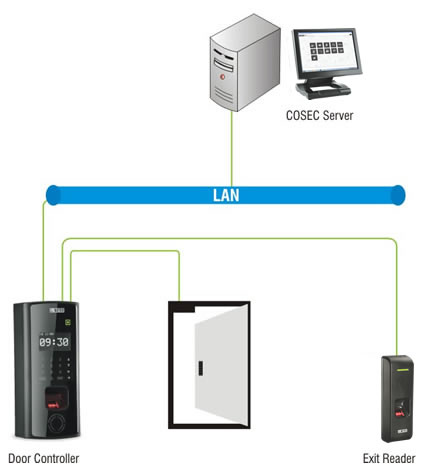 Technical Specifications
Credentials
DOOR CAP
DOOR FOP
DOOR CAW
DOOR FOW
Card and PIN
Card, Fingerprint & PIN
Card & PIN
Card, Fingerprint & PIN
Fingerprint Module
NA
Optical
NA
Optical
Finger Templates
NA
9600
NA
9600
LCD (128x64 Dot-Matrix)
Yes
Touch Sense Keys (16)
Yes
USB
Yes
Communication
Ethernet and RS485
Ethernet, Wi-Fi and 3G
Events Buffer
50,000
5,00,000
Communication Speed
10/100Mbps on Ethernet and 115.2 Kbps on RS485
External Reader
1 Port for Card or Fingerprint Reader
External Reader Interfaces
RS232 and Wiegand
External Reader Power
[email protected]
Exit Switch Port
Yes
Door Status Sense
Programmable NO, NC, Supervised
Door Lock Relay
Relay SPDT, Form C, [email protected]
Door Lock Power
[email protected] or External
Auxiliary Input Port
Programmable NO, NC, Supervised
Auxiliary Output Relay
Relay SPDT, Form C, [email protected]
Tamper Detection
Yes
Buzzer
Yes
Indications
4 LEDs (Status, Alarm, Allowed and Denied)
CPU
32 Bit RISC
Memory
512KB Rom and 128KB RAM
Input Power
12 [email protected]
Dimensions (WхHхD)
100×220×55mm (3.9"х8.7"х2.2")
Weight
0.46Kg (1.00Lbs)
0.49Kg (1.07Lbs)
Environment
0° C to +50°C (32°F to 122°F), 5% to 95% RH Non-Condensing
Collections
Access Control
Access control system provided by Space Communication is most preferred Access control system in Ludhiana & other cities of punjab. Our access control system covers all the needs of any business organization. Our door controllers & time machine are available in various models.