Time Attendance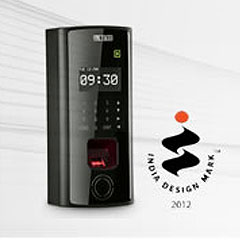 Overview
Space Communication time-attendance terminal is one stop solution for the complete time-attendance requirement of all organizations. These terminal records exact time of a user using fingerprint or card by keeping in mind various time-attendance policies applicable to that user. Space Communication time-attendance terminal with its versatility, intelligence and integration meets the present and future time-attendance needs of businesses..
Elegant Design
Award Winning Design
128x64 LCD Display and Touch Sense Keypad
Pluggable Card Reader Module
Audio Visual Indications
Fast and Accurate Fingerprint Identification
Identification in less than 1 Second
1:1 and 1:N Verification
Better Storage Capacity
50,000 Events Storage
9600 Fingerprint Templates
Versatile Reader
Optical Fingerprint, Proximity Card Reader and PIN
EM PROX and HID PROX
Easy Operation and Installation
User Friendly, Fast and Easy Operations
Standalone and Network Operation
Easy Mounting on a Back Plate
Leverage Existing Network Infrastructure
Technical Specifications
Credentials
DOOR FOT
Card, Fingerprint and PIN
Fingerprint Module
Optical
Fingerprint Templates
9600
128 x 64 Dot Matrix LCD
Yes
16 Touch Sense Keys
Yes
USB
Yes
Communication
Ethernet
Events Buffer
50,000
Communication Speed
10/100Mbps
Buzzer
Yes
Indications
4 LEDs ( Status,Alarm, Allowed and Denied)
CPU
32 Bit RISC
Memory
512KB Internal Flash
128KB RAM and 1 MB External Flash
Input Power
12V DC @ 2A
Dimensions (WхHхD)
100x220x55mm (3.9"x8.7"x2.2")
Weight
00.46 Kg
1.07 Lbs
Environment
0° C to +50°C (32°F to 122°F), 5% to 95% RH Non-Condensing
Collections
Time Attendance
Contact Space Communication is fulfilling the time-attendance requirement of organizations in Ludhiana, Punjab .our time attendance machine records the exact time of the user. Our attendance machineincludes fingerprint attendance machine, card swipe attendance machine & biometric attendance time attendance machine.